Green & Gracious Builder's Scheme
The Green and Gracious Builder's Scheme (GGBS) was introduced by Building Construction Authority (BCA) in 2009 to raise the environmental consciousness and professionalism of builders.

GGBS also set a benchmark for builder's corporate social responsibility to the environment and public during the construction of projects. It aims to:

Promote environmental protection during the construction of projects
Set standards for gracious practices. These practices improve the image of our builders and the built environment sector, particularly among neighbours and residents who may be affected by construction activities near them
Increase adoption of productive construction methods, which can reduce on-site construction activities and/or shorten construction time on site. This reduces inconveniences to the public
Who are eligible to apply for the Green & Gracious Builder's Scheme (GGBS)?
GGBS certification scheme is applicable for all construction firms including Small Medium Constructions firms (SMCs) which will have significant impact on the environment and the community.

The GGBS (SMC) was launched to encourage small and medium construction firms (SMCs) to work in a smart and responsible manner.

Both the GGBS and GGBS (SMC) certification schemes are voluntary for all builders.

GGBS firms will be tiered-rated based on their score, ranging from Certified, Merit, Excellent, and Star.
What are the assessment criteria for (GGBS) Certification?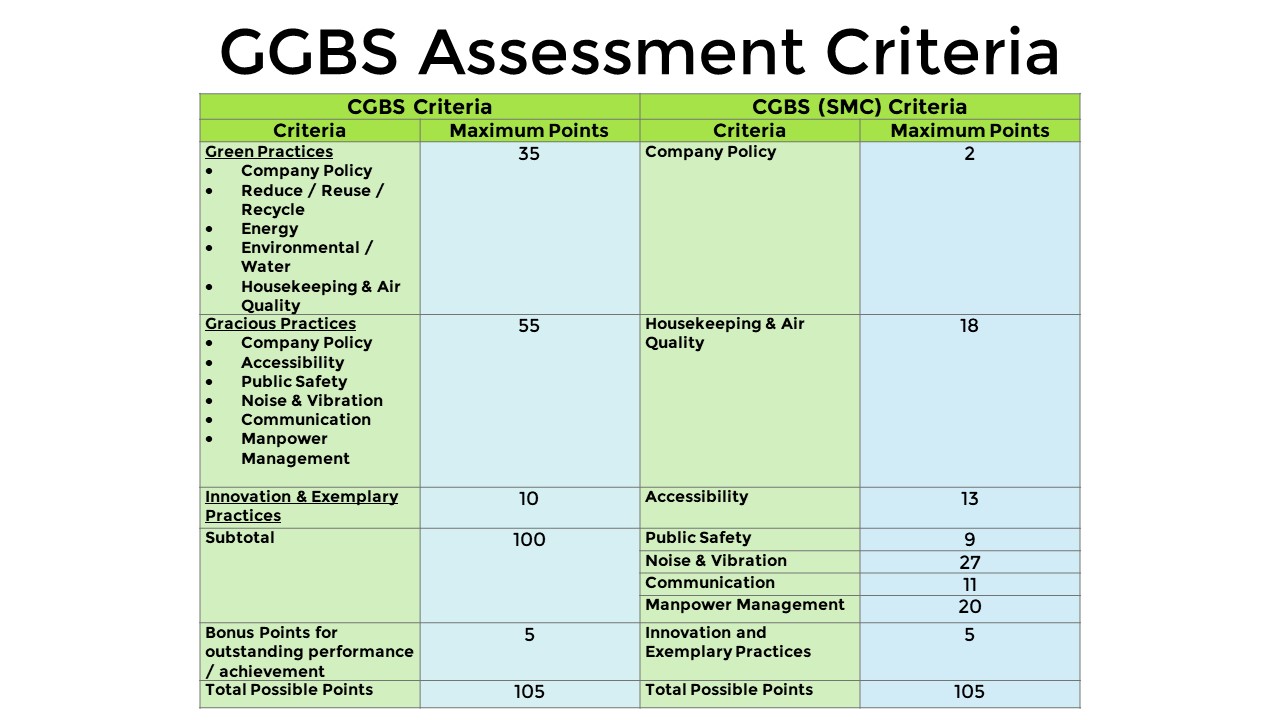 Why is GGBS certification important?
Given the nature and impact of construction works in Singapore, it is important for builders to go green and adopt 'friendlier' construction practices. Having the GGBS certification for the organization will help in preserving the environment and also to contribute awareness to the community-at-large.
Process Approach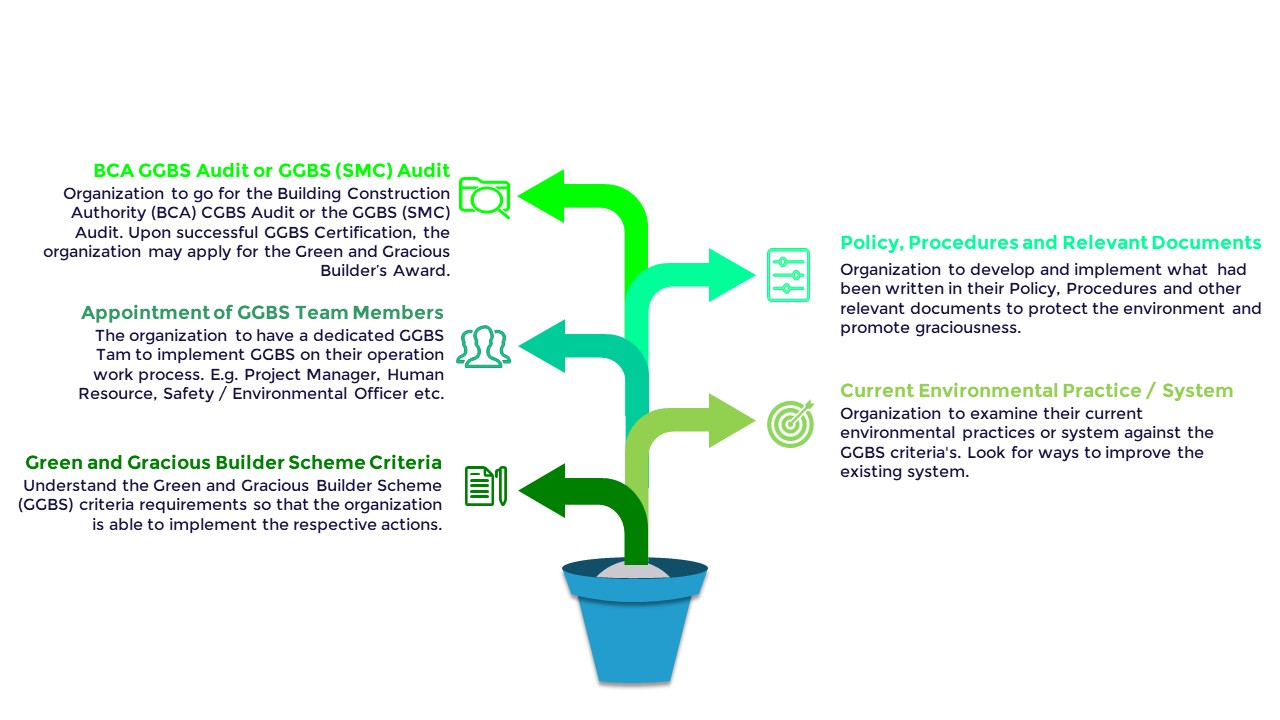 Green & Gracious Builder Scheme Workshop
What does an ISO consultant do?
Choosing consultants with the right qualifications and skill sets is important to meet the Green Gracious Builder Scheme (GGBS) requirements.

Our consultants' team have proven experience in developing, supporting and implementing the GGBS to various organization.

As a GGBS Consultant in Singapore, we will help the organization to achieve the intended GGBS requirements, outcomes and certification. The outcomes include enhancement of environmental performance, fulfillment of compliance obligation and achieving of Green and Gracious objectives.

To attain the GGBS certification our consultant will be doing the followings:
Step 1:

Site visit to understand your business operations and the operational process activities which would affect the environment
Step 2:

Site consultation & training for development of staff capability on the GGBS and GGBS (SMC) certification schemes and the relevant requirements
Step 3:

Write environmental conservation procedures for both office and site operation work process
Step 4:

Conduct a joint site walk to identify any new environmental hazards or to implement mitigating control measures for any existing risk
Step 5:

Implement the Green, Gracious and Innovation & Exemplary practices for the organization
Step 6:
Conduct pre-certification audit to verify readiness of your organization for certification.
Step 7:
Support during certification and post-certification to close-up any audit findings to ensure smooth and successful certification.
We know the importance of understanding the context of your business to ensure the consultancy sessions are efficient and optimised. We ensure that selection of consultant partnering with you has the required and relevant industrial experience to your business.
Get In Touch
Have any question about this service or unsure about choosing the right one for you and your company? Send us a message through this form and we will get back to you as soon as possible.