ISO 45001:2018 Occupational Health and Safety Management System
Introduced in March 2018, ISO 45001: 2018 is the world's international standard for occupation health and safety, issued to protect employees, clients, contractors, visitors, and relevant stake holders from work related accidents, ill-health, or disease. The ISO 45001:2018 was developed to help mitigate any factors which are harmful or pose dangers to the workers, business, and the organization. Upon successful completion of the OH&S Management System Audit, the ISO 45001 certification will be issued to the organization.
Is ISO 45001 replacing the OHSAS 18001 standard?
(Difference between ISO 45001 and OHSAS 18001)
ISO 45001:2018 is the new ISO standard for occupational health and safety (OH&S). It has become one of the most eagerly awaited standards in the world, and is set to drastically improve levels of workplace safety. ISO 45001:2018 will supersedes the previous version of the OHSAS 18001 – the former benchmark for OH&S. It is a new and improved standard. Therefore, Organizations will need to revise their current thinking, process and safe work practices in order to maintain organizational compliance.

While the overall goal of the two standards remain the same, the main differences between ISO 45001 and OHSAS 18001 includes:
Origin of Standard
OHSAS 18001, Occupational Health and Safety Assessment Series was a British Standard for Occupational Health and Safety Management System. While, ISO 45001 is an ISO Standard for Management Systems of Occupational Health and Safety (OH&S), published in March 2018.

Context of the Organization
This is a new requirement for the ISO 45001 previously not in OHSAS 18001, as the organization would have to determine the internal and external contexts which would affects the organization OH&S Management system. The context of every organization involving all the interested parties would have to be determine, discussed, assessed and monitored by various means.

Risk and Opportunities
This is a new requirement stated in the ISO 45001 previously not in OHSAS 18001. With regards to developing and planning the OH&S Management System, the risk and opportunities have to be identified within the organization.
Leadership and Participation
Both ISO 45001 and OSHAS 18001 have similar requirements with regards to leadership and participation however, in ISO 45001 the Management Representative is not required to be the appointed member for the responsibility of the OH&S Management System.

Preventive Actions
OSHAS 18001 still retains both the corrective and preventive actions however the preventive actions have been removed from the ISO 45001 standard. Reason being, the preventive actions have been factored in the risk management process during the assessment of the risk and opportunities.
Process Approach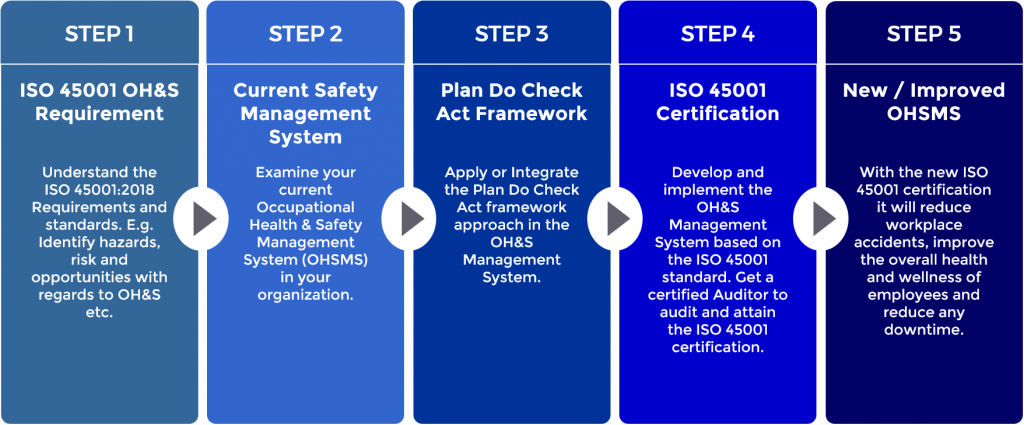 Why is ISO 45001 certification important?
The ISO 45001:2018 certification helps companies to position their business as industry leaders in terms of Safety and Health. It also creates an organisation which built around the best safety practices and set a standard for managing risk. By implementing the ISO 45001:2018 standard, the organization will be seen as an elite category of business and be well position as internationally recognised. This ISO 45001:2018 certificate will also set you apart from your other competitor.
ISO 45001:2018 Certification Process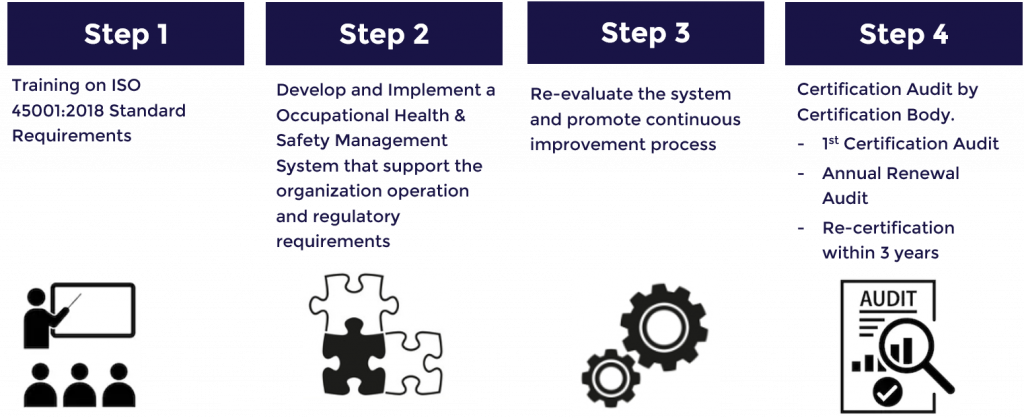 ISO 45001:2018 Awareness Training
ISO 45001:2018 Development and Implementation Training
ISO 45001:2018 Internal Auditor Training
What does an ISO consultant do?
Choosing consultants with the right qualifications and skill sets is important to meet the ISO 45001:2018 requirements.

Our consultants' team have proven experience in developing, supporting, and implementing the ISO 45001:2018 Management System to the various organization from different trades and sectors.

As an ISO 45001:2018 Consultant in Singapore, we will provide an Occupational Health & Safety Management System that provides, reduction in workplace accidents, legal compliance, improvement in managing the safety work process, and also helps your business to become a safer place to work in.

To attain the ISO 45001 certification our consultant will be doing the following:
Step 1:
Site visit to understand your business operations and key hazards, risks and opportunities for each operational process.
Step 2:
Site consultation & training for development of staff capability on the ISO 45001 standards and the relevant requirements.
Step 3:
Using risk and opportunity-based approach, to write procedures for both office and site operation work process.
Step 4:
Conduct a joint site walk to identify any new hazards or to implement mitigating control measures for any existing risk.
Step 5:
Advise on key performance indicators and analysis to improve the Occupational Health and Safety Management System.
Step 6:
Support respective departments on their implementation of the Occupational Health and Safety Management System.
Step 7:
Conduct pre-certification internal audit to verify readiness of your organization for certification.
Step 8:
Assist in providing guidance on the conduct of Management Review.
Step 9:
Support during certification and post-certification to close-up any audit findings to ensure smooth and successful certification.
We know the importance of understanding the context of your business to ensure the consultancy sessions are efficient and optimised. We ensure that selection of consultant partnering with you has the required and relevant industrial experience to your business.
Get In Touch
Have any question about this service or unsure about choosing the right one for you and your company? Send us a message through this form and we will get back to you as soon as possible.