ISO 13485:2016 Medical Devices – Quality Management System
– Requirement for Regulatory Purposes
Medical devices are essential as they benefit both patients and healthcare industries either in diagnosis, prevention, or provision of treatment to improve quality of life. Examples of medical devices include an instrument, machine, implant, or in vitro reagent which are used for medical purposes. The intended use and indications for use differentiates a medical device from one another.

Regulatory requirements in medical devices industry are increasingly stringent on every step of the product's life cycle to ensure safety and quality performance of medical devices produced.
What is ISO 13485 certification?
ISO 13485 specifies requirements for a quality management system where an organization needs to demonstrate its ability to provide medical devices and related services that consistently meet customer and applicable regulatory requirements.

Regulatory bodies recognize different classes of medical devices based on their potential harm if misused, complexity of design and their use characteristics. With different risk classifications, medical devices with lower risks, for example, surgical face masks, will not be required to undergo the same level of testing when compared with high risk medical devices such as implantable defibrillator.

ISO 13485 is similar in scope and intent to ISO 9001, but it includes additional requirements specific to medical devices while excluding certain ISO 9001 provisions. Therefore, in most jurisdictions, ISO 9001 certification is not an acceptable substitute for certification to the requirements of ISO 13485.
Organisations can be involved in one or more stage of the life cycle, including design and development, production, storage and distribution, installation and servicing of medical devices and related services. ISO 13485 are applicable to organization regardless of their size and type. It can be used by suppliers or external parties who supply medical devices.

ISO 13485 focuses on eight core principles, on customer focus, people involvement, continual improvement, decision making process that is fact-based, process approach, a system approach and supplier relationships.

With ISO 13485, peace of mind, protection, cost efficiency and confidence are passed along to the end-users/buyers through high quality care. In overall, compliance with regulations and requirements benefits everyone and the final result is countless saved lives.
Process Approach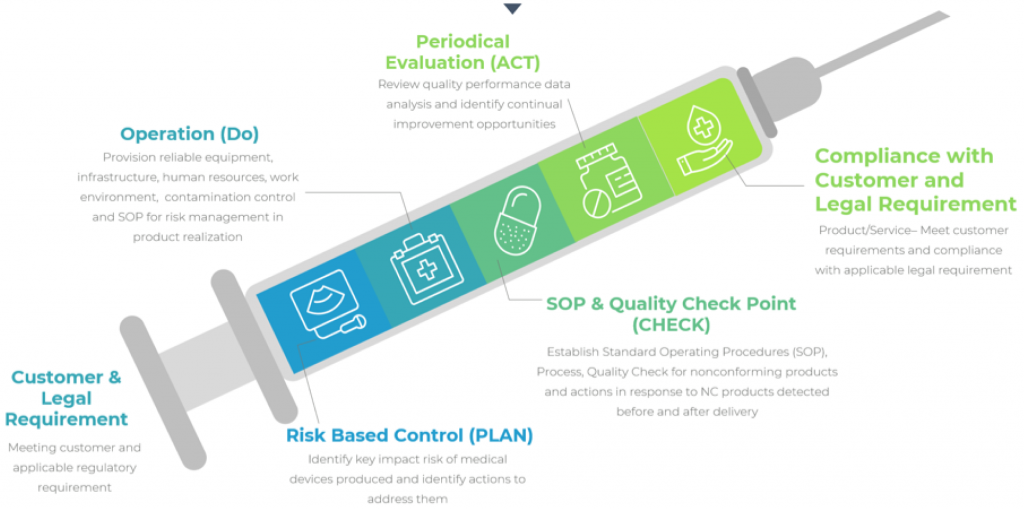 Why is ISO 13485 certification important?
Organizations certified in ISO 13485 shown evidence of ability to consistently provide products and services that meet customer requirements and compliance with regulatory requirements. Organization can avoid unnecessary costs and avoidance of lawsuit damages besides creating sense of customer's confidence over the high-quality products or services provided by the manufacturer.
ISO 13485 Certification Process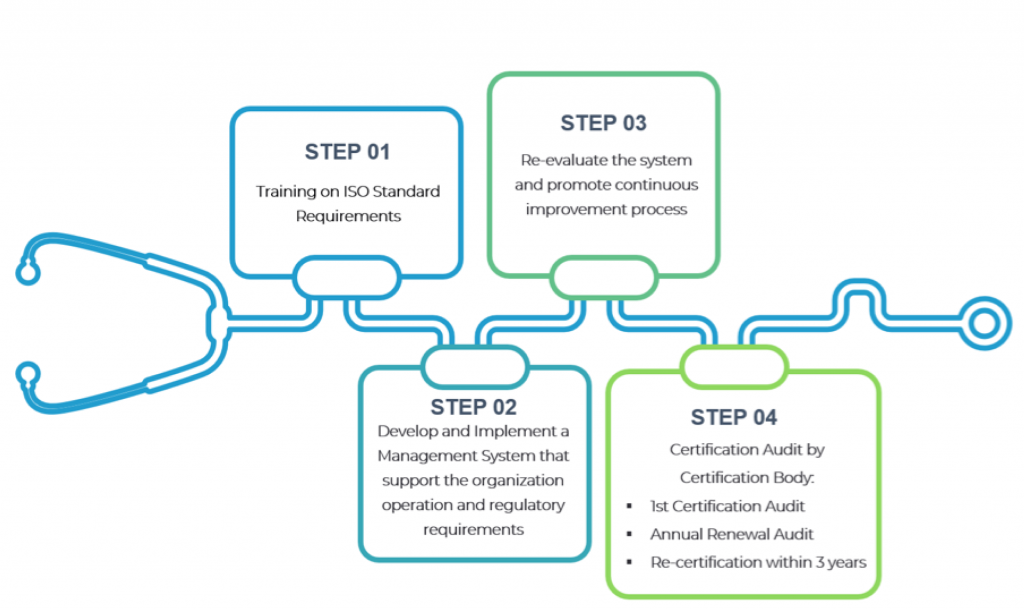 Step 1:
People and System Development
Training on ISO 13485 requirements.
Step 2:
System Development and Implementation
Establish a Quality Management System that encompass the processes or procedures that support the organization to meet the ISO 13485 requirements as well as customer and applicable regulatory requirements.
Step 3:
Internal Audit and Management Review
Conduct internal audit/review to constantly re-evaluate the system and promote continuous improvement process.
Stage 4:
Certification Audit
Certification auditor conduct certification audit (document review and practical application assessment)

Conferral of ISO Certificate

Annual Surveillance Audit

Re-certification within 3 years
ISO 13485:2016 Awareness Training
ISO 13485:2016 Development and Implementation Training
ISO 13485:2016 Internal Auditor Training
What does an ISO consultant do?
Our consultants team have vast experience partnering with organizations of all sizes and from all sectors and can provide the resources you need for successful ISO 13485 certification.

To establish effective quality management in your company, our ISO Consultant consider your specific requirements and perspectives and guide your through the process for certification of your Quality Management System in accordance with ISO 13485 requirements following these steps:
Step 1:
Site visit to understand your business operations and key impact risk of medical devices produced.
Step 2:
Site consultation & training for development of staff capability on quality management.
Step 3:
Writing of Product Realization Process and Procedures.
Step 4:
Advise on Key Performance Indicators and analysis to improve Quality Management System as well as medical device safety and performance.
Step 5:
Support individual departments on their implementation of Quality Management System.
Step 6:
Conduct pre-certification audit to verify readiness of your organization for certification.
Step 7:
Support during certification and post-certification to close-up any audit findings to ensure smooth and successful certification.
We know the importance of understanding the context of your business to ensure the consultancy sessions are efficient and optimised. We ensure that selection of consultant partnering with you has the required and relevant industrial experience to your business.
Get In Touch
Have any question about this service or unsure about choosing the right one for you and your company? Send us a message through this form and we will get back to you as soon as possible.