Nutri-Grade Grading System
Pre-packaged beverage and non-customisable automated beverage dispensers in Singapore have been implemented with Nutri-Grade labelling and advertising prohibition measures with effect from 30 December 2022. The measures will be extended to freshly prepared beverages sold at retail outlets such as food and beverage outlets and catering establishment, and non-retail outlets such as hotels, workplaces, educational institutions, healthcare institutions and childcare facilities.

MOH and HPB are working on the additional measures and planned to published it in Government Gazette in mid-2023 and come into effect in end 2023.

More information can be found from HPB website – Measures for Nutri-Grade Beverages.
What is Nutri-Grade Grading System?
Nutri-Grade beverages includes:

Ready-to-drink pre-packaged beverages e.g. bottles, cans, cartons, packets or other similar containers.
Powdered or concentrated pre-packaged beverages that need to be reconstituted with fluids before consumption e.g. 3-in-1 instant coffee, cordials.
Non-customisable automated beverage dispensers which has no option to customize the any ingredient in the beverage e.g. fountain drinks, beverages dispensed from automated coffee machines.
Freshly prepared beverages that can be customized by consumers e.g. freshly brewed coffee or tea, freshly squeezed juices, freshly blended smoothies, bubble tea, freshly prepared herbal drinks and beverages dispensed from customisable automated beverage dispensers. [New from end 2023]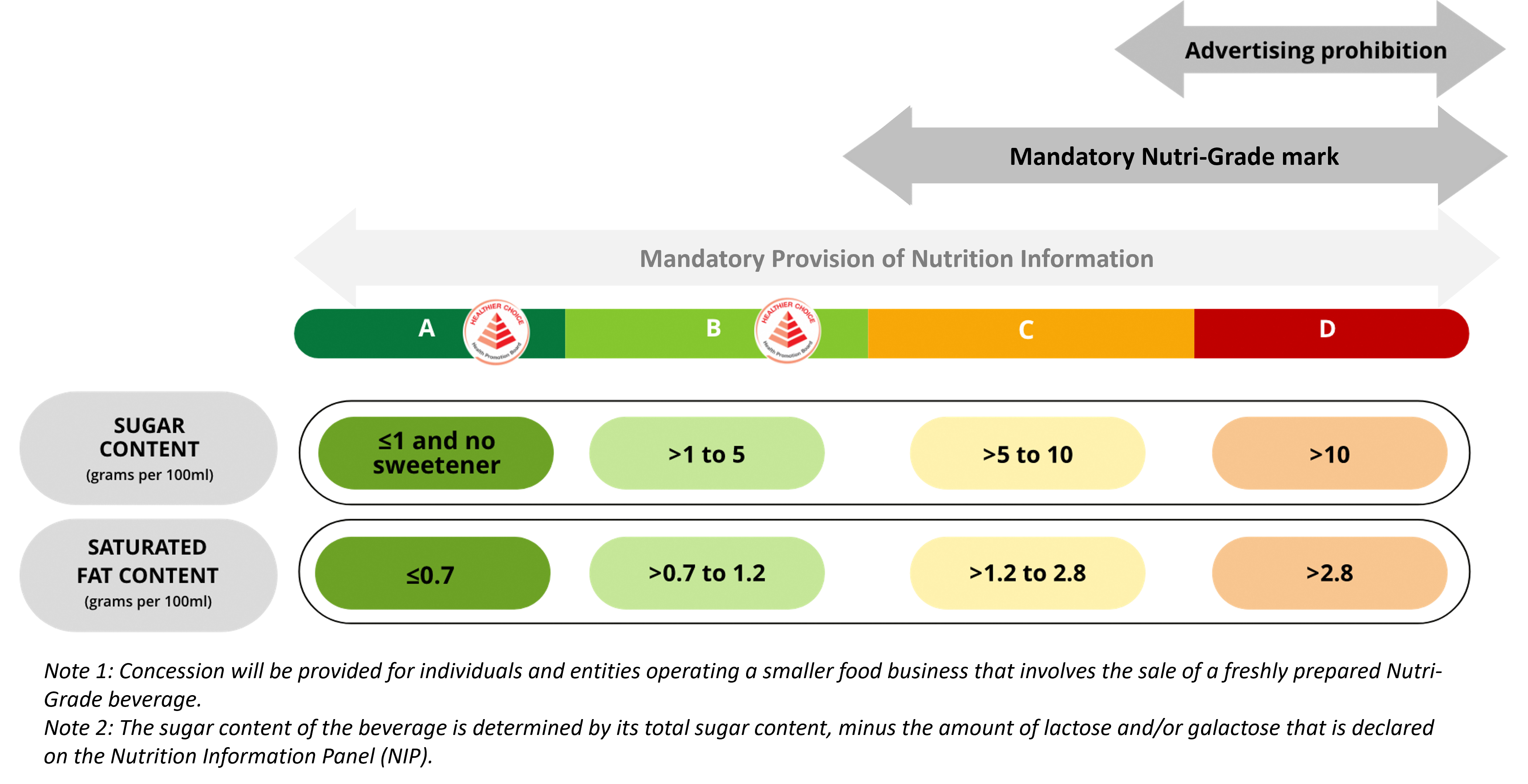 Figure 1: Nutri-Grade Grading System
Why is Nutri-Grade certification important?
Nutri-Grade labelling and advertising prohibition measures were developed to assist consumers identify beverages which are higher in sugar and saturated fat. Also, to reduce the influence of the advertisement of these beverages and to encourage more healthier choices beverages by spurring industry reformulation.
How does our consultant assists you on

Nutri-Grade Grading System
Our consultants team have vast experience partnering with organizations of all sizes and from all sectors and can provide the resources that you need for successful implementation of measures for Nutri-Grade beverages.
Site visit to understand your business operation and product/ business nature.
Site consultation and identify beverages require to follow the measures of Nutri-Grade grading system.
Advise on nutrition information (e.g. energy value, protein, carbohydrate, total sugar, fat and saturated fat) for all Nutri-Grade beverages.
Determine Nutri-Grade beverages grade for all beverages based on the calculated sugar and saturated fat.
Determine if the Nutri-Grade mark requires to be labelled next to beverages listed for sale.
We know the importance of understanding the context of your business to ensure the consultancy sessions are efficient and optimized. Our appointed consultants will have the required and relevant experience to support your business needs.
Get In Touch
Have any question about this service or unsure about choosing the right one for you and your company? Send us a message through this form and we will get back to you as soon as possible.